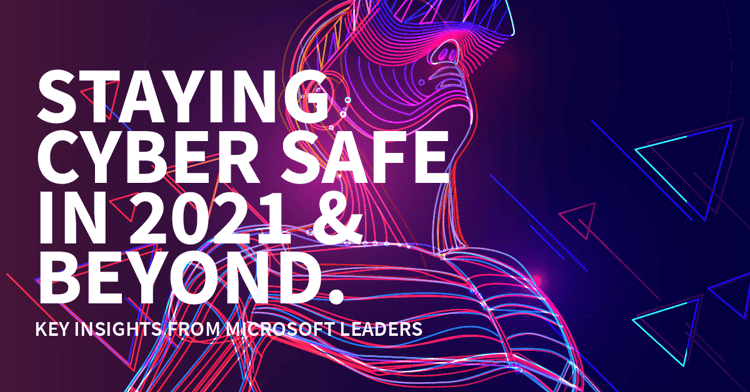 One of the biggest challenges in cybersecurity is keeping up with the new attacks that criminals are creating.
2020 exacerbated this challenge, as cybercriminals continued to launch new, opportunistic cyber threats, cruelly exploiting fears and uncertainty around COVID-19. Email-borne cybercrime continues to be a significant concern for businesses. Microsoft reports that over 13B malicious and suspicious emails were blocked in the past year, out of which more than 1B were URLs set up for the explicit purpose of launching a phishing credential attack.   
To help, Microsoft security teams & experts have been actively monitoring and sharing insights related to the threat landscape and releasing timely updates & resources throughout the year. Our latest whitepaper, 'Staying cyber safe in 2021 & beyond: Key insights from Microsoft leaders', includes a list of key takeaways summarising some of those insights.
We encourage you to download this whitepaper and share it with your customers as you continue conversing with them about navigating the cyber challenges of a new, post-pandemic world in 2021, and beyond.
Together, let's continue collaborating and learning from one another to protect our customers from cybercrime.    
What strategies are you advocating to your clients, to ensure their businesses and their data are always protected? We'd love to hear your views. Feel free to contact us via the details below or join the conversation on our Twitter and LinkedIn pages. 
Talk to us
MailGuard's partner blog is a forum to share information and we want it to be a dialogue. Reach out to us and tell us how we can serve you better. You can connect with us on social media or call us and speak to one of our consultants.
Australian partners, please call us on 1300 30 65 10
US partners call 1888 848 2822
UK partners call 0 800 404 8993
We're on Facebook, Twitter and LinkedIn.