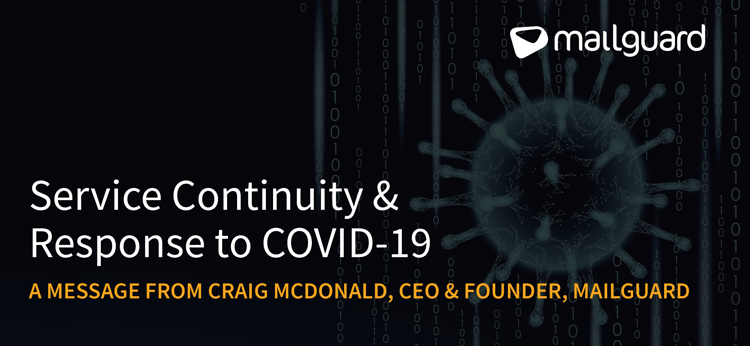 The Coronavirus (COVID-19) situation is constantly evolving, and its impact on members of our community differs in many ways. It poses the greatest risk to older adults and to those with pre-existing health conditions, but inevitably it is already having an impact on us all.
Our focus remains the health and wellbeing of our team, our customers, our partners, and the various businesses that our teams engage with every single day. We are paying particular attention to the advice of government agencies and health authorities and enforcing our own internal policies in line with that advice.
MailGuard is fortunate to have a robust and highly secure IT infrastructure in place, enabling all of our people to work remotely, as required.
As a cloud-based business, importantly that infrastructure also ensures that our services and operations can continue uninterrupted. As of now, MailGuard remains fully operational, and all of our services and support infrastructure continue as normal. We will keep you updated if this changes or if any of our services are affected as the COVID-19 crisis develops.
MailGuard is aware that in the coming period of uncertainty, as teams avoid person-to-person contact and increasingly work remotely, that there will be a far greater reliance on electronic communication, and a commensurate increase in opportunistic cyber-criminal activity and scams. We are already seeing evidence of this occurring.
Our support and operations teams remain operational 24/7, and contact channels are unchanged:
Technical support:

Australia: 1300 306 510
United States: 888 848 2822
United Kingdom: 0 800 404 8993
To assist your own organisation, the World Health Organisation suggests some low-cost measures in this document that will help prevent the spread of infections in your workplace, and protect your own customers, contractors and employees.
If you have any concerns or questions, or need assistance during this time, please reach out to my team. We are here to help.
Stay safe and healthy.
Craig McDonald
CEO & Founder, MailGuard
Talk to us
MailGuard's partner blog is a forum to share information and we want it to be a dialogue. Reach out to us and tell us what your customers need so we can serve you better. You can connect with us on social media or call us and speak to one of our consultants.
Australian partners, please call us on 1300 30 65 10
US partners call 1888 848 2822
UK partners call 0 800 404 8993
We're on Facebook, Twitter and LinkedIn.