MailGuard has intercepted a large run of extortion phishing emails that are demanding ransom payment in bitcoin.
There are several variations of the email scam, each attempting to blackmail their target. The theme is the same – telling victims that sensitive, often deeply personal and embarrassing information has been obtained and threatening to publish the content unless a ransom payment is made in bitcoin.
The malicious emails are infiltrating inboxes using varying display names and subject titles. The sender details also vary. Some of these include compromised accounts while others forge the recipients' email addresses in an attempt to trick the user into thinking their account has actually been hacked, as claimed in the email.
In many instances the email contains the user's password from compromised accounts (often in the subject line) to demonstrate that the cybercriminals have access to the account.
Here 3 examples of these malicious emails: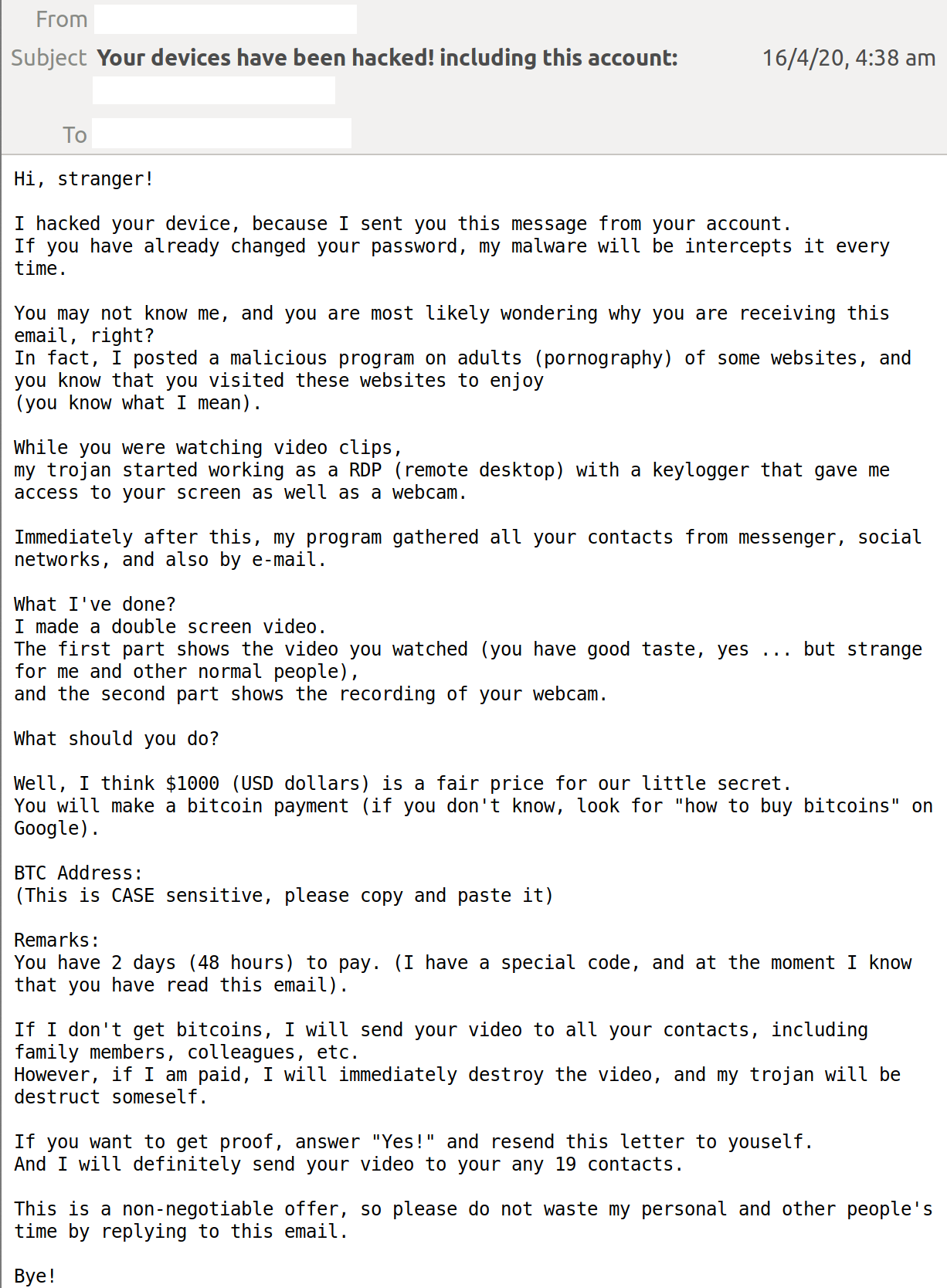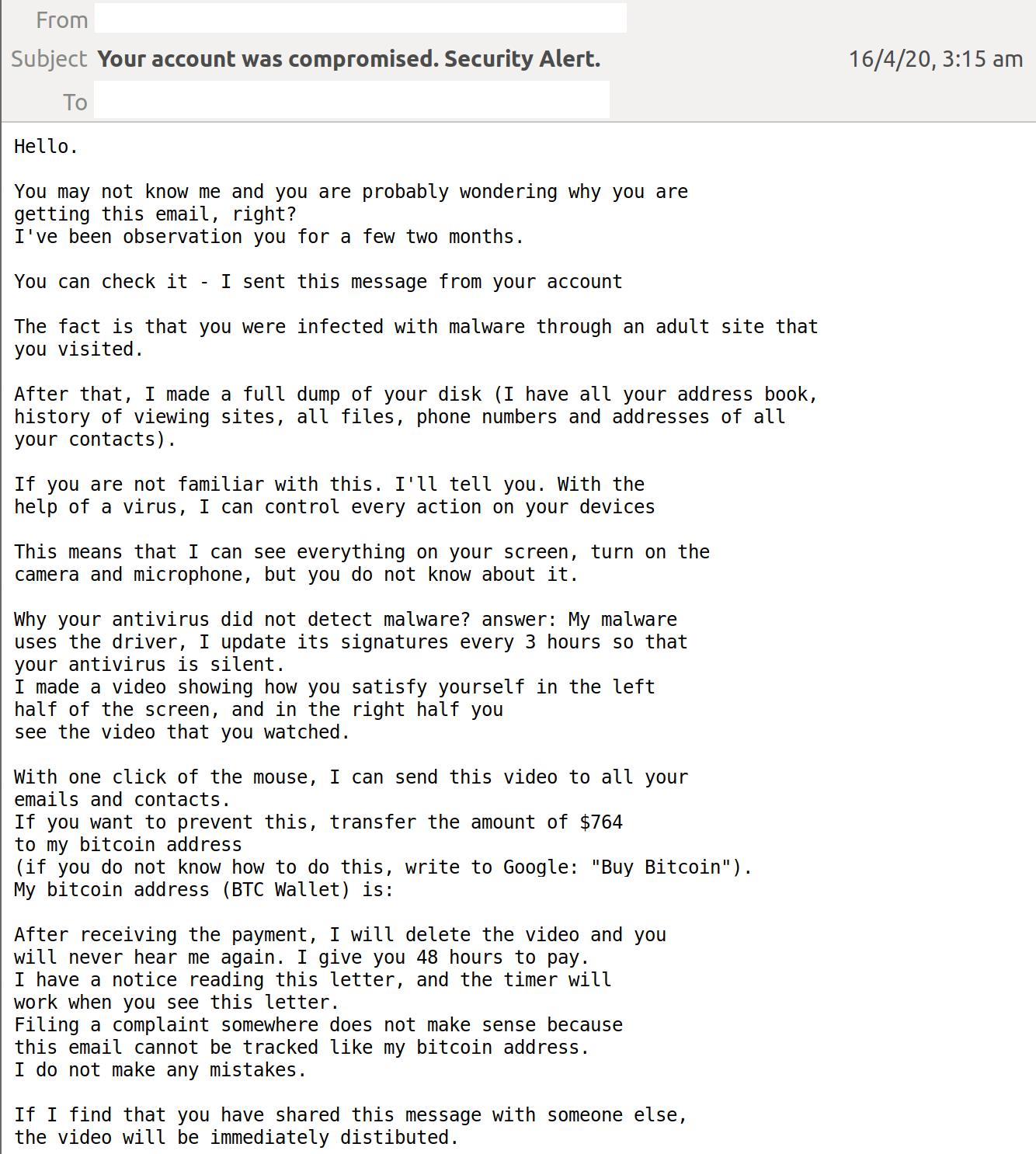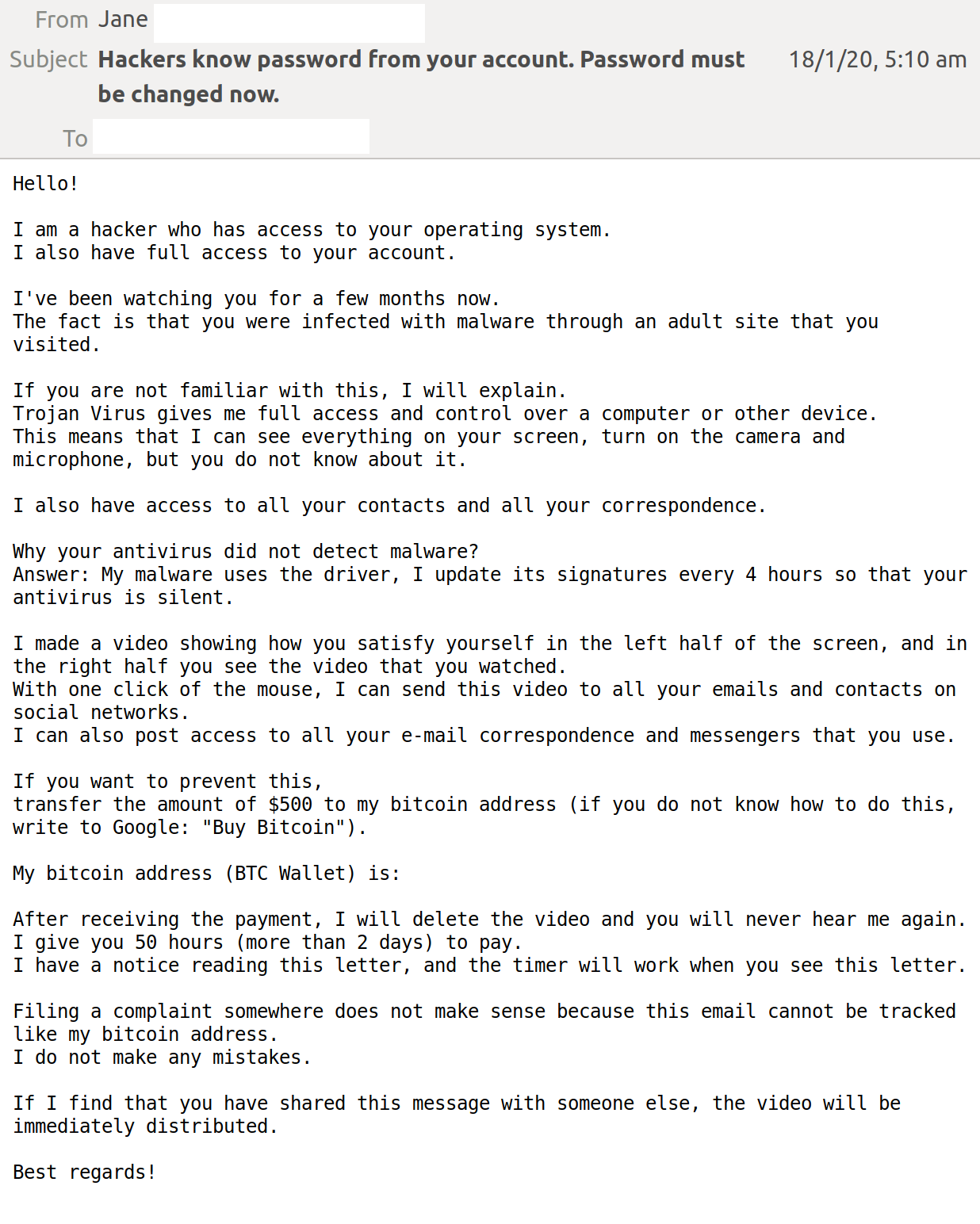 We strongly advise all recipients to delete these emails immediately without responding. Please share this alert with your social media network to help us spread the word around this email scam.
As you can see from the screenshots above, multiple techniques have been employed to trick recipients – including alarming subject lines and long, detailed threatening messages.
It is key to remember that these scams are all fake, and cybercriminals do not have any incriminating or personal information to use against you. Rather, they are trying to tap into your fears and paranoia. This is a reminder to be careful about how we use our mobile devices and computers, and of the threat of online surveillance. Think carefully about what data is being stored or shared online that might be used against you.
To be safe, MailGuard suggests using unique passwords for every site you visit, and setting up 2 factor authentication where available.
The Australian Cyber Security Network has also recently issued a warning to all Australians to be wary of such phishing extortion emails – specifically termed 'sextortion' email scams that threaten to release personal and sensitive information to the recipient's contacts unless the scammer is paid. (often using cryptocurrency).


Here are some tips they have shared to avoid being tricked by these scams:



In most cases, if you receive an email there is no reason to be concerned. These emails are typically generated in their thousands by online scammers using limited personal details, with the aim of scaring recipients into paying the ransom.The information in the email is often collect from the internet from previously known data breaches.

If you receive one of these emails, don't give the perpetrator any money or images, and stop all contact with them.

To find out where your email may have been included as part of a data breach visit Have I Been Pwned.

If you have concerns about your physical safety, call Triple Zero (000) or contact your local police.


We encourage you to share this information with your family, friends and colleagues.
Don't get scammed
If your company's email accounts aren't protected, emails like the one above are almost certainly being received by your staff. Cybercriminals know people can be tricked; that's why they send out millions of scam messages and put so much effort into making them look convincing.
People are not machines; we're all capable of making bad judgement calls. Without email filtering protecting your business, it's just a matter of time before someone in your organisation has a momentary lapse of judgement and clicks on the wrong thing.
One email is all that it takes
All that it takes to break into your business is a cleverly-worded email message. If scammers can trick one person in your company into clicking on a malicious link they can gain access to your data.
For a few dollars per staff member per month, you can protect your business with MailGuard's predictive and advanced email security.
Talk to a solution consultant at MailGuard today about securing your company's network.
Why not stay up-to-date with MailGuard's latest blog posts by subscribing to free updates? Subscribe to weekly updates by clicking on the button below.