"During the holiday season, it's easy to forget that sometimes the best gift of all is simply the gift of time." - Kate Klise - author and journalist.

I've just come back from a holiday break with my family. It was a welcome opportunity to focus on my loved ones, but it also gave me some time for reflection.

Leadership, management, creativity; we generally talk about these things in terms of action. To lead is to strive. To be creative is to work. I feel sometimes that contemporary society undervalues contemplative thought.
If you lead a busy life, like I do, then holiday season might have a certain awkward discomfort to it. When we're on vacation it can sometimes feel like it's time lost; like we're falling behind with our tasks, but I think that we're doing more than just resting when we take a break.
If your 2017 was anything like mine then you got a lot done and learned a few things along the way, but maybe you didn't have as much time for quiet reflection as you would have liked.
It's a reality of leading a productive and busy life that there often isn't that much brain space left for 'big picture' thinking. It's hard to see what's going on clearly when you're striding along the road. Once in a while, it's good to stand still and survey the landscape more objectively.
Contemplation is a Good Investment
When we're tightly focused on getting the job done we accomplish a lot on a micro level, but what we miss is the context. A lot of the time when we're busy we forget that so much is beyond our control - that the world happening around us is determining our future as much as our own actions. Stepping back and looking around occasionally reminds me that opportunity isn't always where we think it will be. The effort we're putting into the task at hand might be better spent somewhere else, but that's only going to be clear if we lift our gaze from the road in front of our feet.
I've started several businesses including a cafe, a champagne event, a cybersecurity company, and an art gallery. One of the reasons I have invested in such diverse projects is that I make time to think about the opportunities that aren't right in front of me. If I kept my focus firmly fixed on one objective, my life might be simpler, but it would also be less interesting and less challenging.
The moments when new ideas come are often the moments when my mind is disengaged. Sometimes the inspirations or solutions to problems are only out of reach because we're too busy with the last thing we thought about.
Don't Fear New Ideas
I've got a theory about why some of us fall into 'busy-ness' and lose our perspective; new ideas can be unsettling. Sometimes if you stop and think for a while it shows you a better way, but that might mean making big changes, or abandoning projects that you've invested a lot of time money and effort into.
I try to welcome the uncertainty that comes with out-of-the-box thinking, because while it might create anxiety in this moment, it's going to take me to new and better ideas in the longer-term. Being still, standing back and looking around sometimes feels like losing control, but that's not something to be anxious about, it's an opportunity to adapt and be more effective.
Commit to Thinking Differently
"First comes thought; then organization of that thought, into ideas and plans; then transformation of those plans into reality. The beginning, as you will observe, is in your imagination." - Napoleon Hill - author "Think and Grow Rich"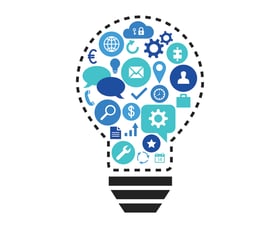 Like new years resolutions, the clarity we find in contemplation can easily evaporate when the daily grind kicks in again. Those moments of contemplation are so valuable, so when I have them I try to bring the insights forward with me into the next round of activity.
To grind-proof my mind I try to identify goals that come out of big-picture thinking and commit to them. When you get a chance to think big you're going to get inspired, so make sure you capture your new ideas. Whether you make task lists, timelines or spreadsheets, the process works the same way. By downloading the plan to a place that's outside your head you relieve your mind of the details so you can think about the opportunities.
If you have collaborators to bounce ideas against, your perspective can transcend the limitations of your own experience. For me, dialogue is the best tool for innovation. To get the most from your collaborative relationships, ask and invite provocative questions that don't have simple answers.
Better ideas often arrive disguised as difficult questions, so I try not to be frustrated by them. Big questions have enlightening answers.

No Such Thing as Wasted Time
I love taking a holiday because it's time with my family and an opportunity for an adventure, but there's something else happening too.
I'm in a head-space where I can see beyond the immediate problems.
When I'm on vacation and my mind is unhooked from the day-to-day stuff; that's when the decisions I've been wrestling with sometimes just transform into new opportunities.

No doubt there are decisions and challenges you were happy to put on hold when you stepped away from your desk for the holidays, but you shouldn't have any anxiety about that or feel like you were procrastinating. That disconnect could have been exactly what you need.

Get some distance from the page and look at the shape of the whole story. That's often where the meaning is.

"We cannot solve our problems with the same thinking we used when we created them." - Albert Einstein.
Stay Up-to-Date

Please follow me on social media: I'm active on LinkedIn and Twitter.