Telstra impersonated as the subject of a simple email scam, this time aiming to deliver a malicious Jar file download. Masquerading as an invoice in a ZIP attachment, the email simply reads 'Your new Telstra bill for account is attached.'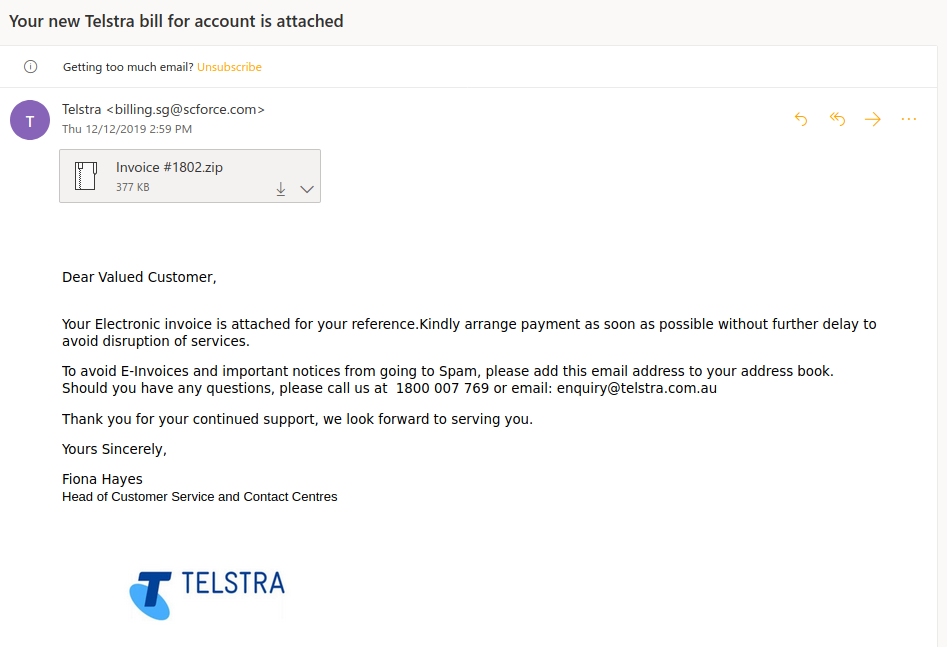 With authentic Telstra branding, the email is addressed to 'Dear Valued Customer' with 'Telstra' as the display name, and a sender and envelope address of 'billing(dot)sg(at)scforce(dot)com.'
Although the email is relatively simple in its execution, and likewise that the format is not consistent with a typical Telstra bill, there is nonetheless a likelihood that a number of customers will fall prey to the scam simply because of their familiarity with the Telstra brand and because of the importance of ensuring that your phone and internet services are paid and operational throughout the holiday break.
Checking the sender details of suspicious emails is one way of verifying whether they are legitimate communications or email scams. In this instance, the email does not originate from an authentic Telstra email domain.
Cyber-criminals frequently exploit the branding of large companies like Telstra in their scams, because their good reputation lulls victims into a false sense of security. Because of the large number of customers, Telstra is a regular victim of these scams.
What to look out for
As a precaution, avoid clicking links in emails that:
Are not addressed to you by name, have poor English or omit personal details that a legitimate sender would include (e.g. – tracking ID).
Are from businesses you're not expecting to hear from.
Ask you to click on any suspicious links.
Take you to a landing page or website that does not have the legitimate URL of the company the email is purporting to be sent from.
Defend your inbox
Even the most experienced and savvy email users can have a moment of haste, carelessness or fatigue when their guard is down. Just practising good common sense isn't enough anymore, because for scammers it's a numbers game; they know that if they keep sending their scams, sooner or later we will slip up and do something we shouldn't.
Email scams can be enormously costly and destructive, and new scams are appearing every day. Don't wait until it happens to you or someone in your business; take action to protect your inboxes, now.
Speak to the MailGuard team today to learn more how MailGuard's predictive and advanced email security can help protect your business for a few dollars per staff member per month.
Talk to a solution consultant at MailGuard today about securing your company's network.
Why not stay up-to-date with MailGuard's latest blog posts by subscribing to free updates? Subscribe to weekly updates by clicking on the button below.