Making and selling malware like viruses, trojans and ransomware has grown into a booming industry that now generates new cyber-threats on a daily basis.
The latest malware strain to hit the blogosphere headlines has been dubbed 'SquirtDanger.' It's potent spyware that can covertly record passwords, take screenshots and even steal files from infected devices.
SquirtDanger is causing alarm in the cryptocurrency world because it has the ability to infiltrate and pillage 'crypto-wallets'; the digital caches where crypto investors keep their Bitcoin and other Blockchain currencies.

SquirtDanger was first detected by cybersecurity research group Palo Alto Networks Unit 42. The spyware has reportedly already impacted several targets including a Turkish university, an African telco and an ISP in Singapore.

At time of writing, instances of SquirtDanger malware have also been seen in attacks in France, The Netherlands, French Guinea and Russia.
The hackers responsible for the creation of SquirtDanger are allegedly working out of Russia, and have previously produced and sold other malware products on the blackmarket.
Retail cybercrime weapons

SquirtDanger is an example of MaaS; Malware as a Service; the phenomenon of malicious software being distributed retail-style.
When a scammer sets up a crime operation nowadays, they can get all the malware tools they need through easy-access portals that look a lot like the websites of conventional software companies.
The mass-market commodification of malware has given rise to a new era of prolific cybercrime with criminals using software tools that are easy to obtain and require little expertise to use.
You can learn more about MaaS and malware threats, here.
Cybersecurity explained

If you would like to learn more about the complex cybersecurity challenges facing business today, please download the e-book Surviving the Rise of Cybercrime by MailGuard CEO Craig McDonald.
This plain English book explains the most common threats and provides essential guidance on managing risk.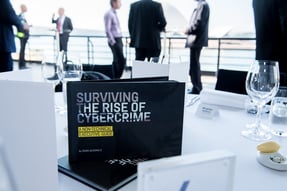 "Cybercrime is a serious and growing business risk. Building an effective cybersecurity culture within an organisation requires directors and executives to lead by example. Surviving the Rise of Cybercrime is a must-read for directors and executives across business and in government and provides strong foundations for leaders determined to address cyber risk."
- Rob Sloan, Cybersecurity Research Director, Wall Street Journal.
Download your copy of Surviving the Rise of Cybercrime for free, here.