Have you received an email which claims to be from DHL Express and warns that you have a package being held with an outstanding fee? Watch out - it may be a new phishing scam.
The email has the subject line "#[IMPORTANT] : Package - N°XB371363531AU – Fees Need To Be Paid : RJ - N°51 : #N543754455239.doc" and the sender name shows "MYDHL EXPRESS". However, the email address shows "friends2(at)node1431(dot)myfcloud(dot)com", which is not associated with any DHL domain.
The DHL Express logo is used at the start of the email to feign authenticity, and the content warns the recipient that their package is pending in their depot "due to a non-payment of the 2.99 AUD fee". The user is then instructed to click the hyperlinked text which says, "Pay fees of my delivery". To help make the email look more legitimate, the fraudster has added copyright information to the footer, although they have forgotten to translate the majority of this text from French to English.
Here's what the email looks like: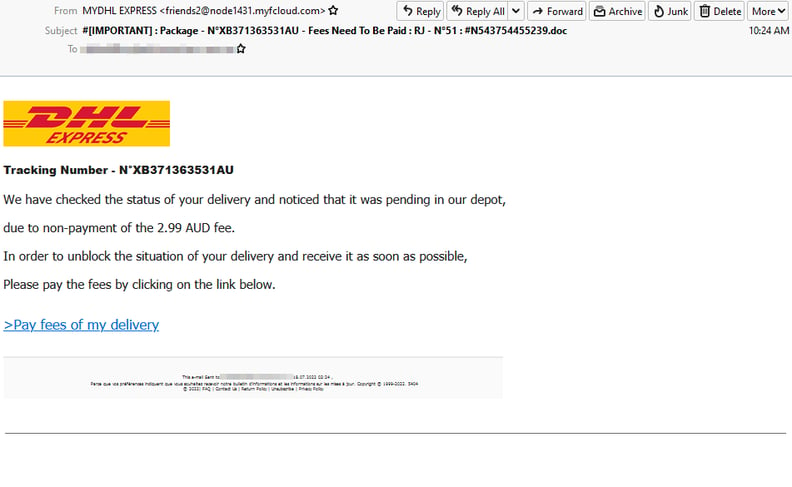 When the recipient clicks on the linked text, they're taken to a phishing page which is hosted on lamaisongenerale(dot)com, which is the website of a French business that appears to have been compromised. The header of the page only shows the DHL Express logo, whereas the genuine DHL website shows a navigation bar on all pages.
The page shows the total owing as "2,99$", and again repeats the tracking number above a payment form. The form asks for the user's payment details, including name on card, payment card number and date of expiry. Next to the date of expiry field, there is another box which asks for 'Crypto', although the image suggests the user should enter their card CVV.
The user is asked to confirm they have "read and accept the Privacy Policy" before proceeding.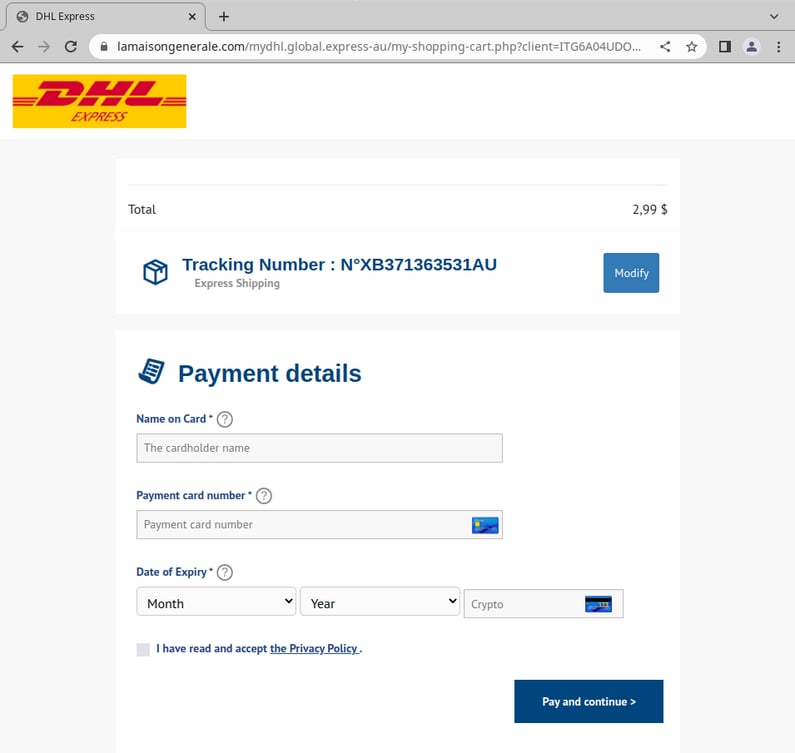 If the user does proceed, their credit card details are harvested for later use, and they will be shown this loading screen.

When, they will be taken to a page where they are asked for a one-time password (OTP) which may be sent to their phone. Credit card companies often use such systems to help protect their customers, although from the grammatical errors, you can see this one is not authentic, and the fraudster has created it to make the process feel more credible.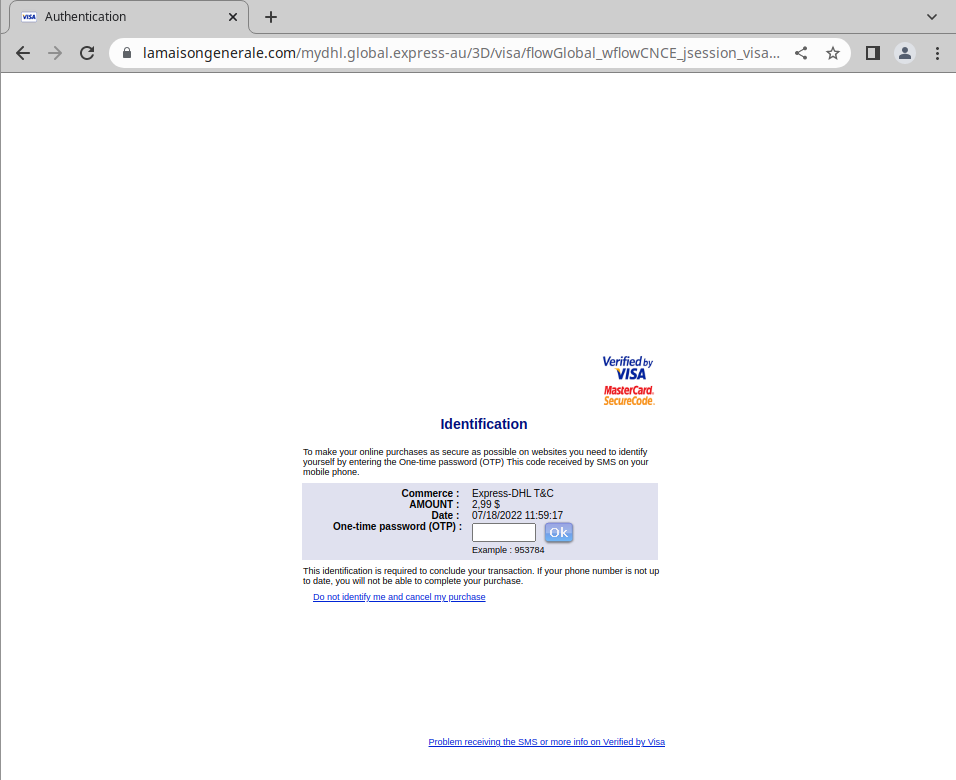 Companies such as DHL are often the target of impersonation in phishing attacks due to their trusted brand and global customer base.
DHL warns customers that:
Official DHL communication is always sent from @dhl.com, @dpdhl.com, @dhl.de, @dhl.fr or another country domain after @dhl
They never use @gmail, @yahoo or other free email services to send emails
MailGuard advises all recipients of this email to delete it immediately without clicking on any links. Providing your personal details can result in your sensitive information being used for criminal activity and may have a severe negative impact on your business and its' financial well-being.   
MailGuard urges users not to click links or open attachments within emails that:      
Are not addressed to you by name.      

Appear to be from a legitimate company but use poor English or omits personal details that a legitimate sender would include.      

Are from businesses that you were not expecting to hear from, and/or      

Take you to a landing page or website that is not the legitimate URL of the company the email is purporting to be sent from.     
Many businesses turn to MailGuard after an incident or a near miss, often as a result of an email similar to the one shown above. If unwanted emails are a problem for your business, don't wait until it's too late.
Reach out to our team for a confidential discussion by emailing expert@mailguard.com.au or calling 1300 30 44 30.
One email is all that it takes    
All that it takes to devastate your business is a cleverly worded email message that can steal sensitive user credentials or disrupt your business operations. If scammers can trick one person in your company into clicking on a malicious link or attachment, they can gain access to your data or inflict damage on your business.    
For a few dollars per staff member per month, you can protect your business with MailGuard's predictive and advanced email security. Talk to a solution consultant at MailGuard today about securing your company's inboxes. 
Stay up-to-date with MailGuard's latest blog posts by subscribing to free updates. Subscribe to weekly updates by clicking on the button below.