Free Webinar from Microsoft

Cybercrime is impacting 9 out of 10 businesses. According to a recent study by PwC, it is the number one economic crime in Australia, and number two globally. This is a risk management challenge of huge proportions.
We have seen high-profile outbreaks like NotPetya, WannaCry and BadRabbit impact businesses globally, and devastating data breach incidents like the Equifax scandal.
What we don't often hear about is how these massive data breaches happen. The sobering truth is that large-scale data breaches can be instigated through simple email fraud.
In his keynote address at Microsoft Inspire in July, Brad Smith - Microsoft President and CLO - called the rise of cybercrime a "wake-up call."
"Cybersecurity is global in scope and paramount in importance. What we've learned is that 90% of all security intrusions start the same way, with an email and a link that takes somebody to a harmful website. Every company has at least one employee who will click on anything, and that is pretty hard to protect against." - Brad Smith - President, Microsoft.
Microsoft + MailGuard

Like MailGuard, our partners at Microsoft are on a mission to raise awareness and encourage information sharing on cybersecurity issues.
On Tuesday 5 December, Microsoft is broadcasting a free webinar offering information and advice on meeting today's pressing cybersecurity challenges.
Join industry experts Chris Francis - Enterprise Mobility & Security Lead at Microsoft - and Craig McDonald - Author of 'Surviving the Rise of Cybercrime' & CEO of MailGuard - as they share insights on the rise of cybercrime and what every executive needs to know to keep their business safe.
Cybersecurity Webinar Topics

In this webinar Chris and Craig will explore:
The evolving nature of cybercrime targeting executives and their organisations

Why every business has some form of cybersecurity measures in place, yet nine out of 10 are still being impacted

Steps you can take to keep your business and your team safe from new cybercrime incidents
Register to participate here.
Webinar Presenters

Craig McDonald:
MailGuard Founder and CEO; Author of Surviving the Rise of Cybercrime.
Learn more about Craig on his LinkedIn profile.
Chris Francis:
Enterprise Mobility & Security Lead; Microsoft Australia
Read about Chris on his LinkedIn profile.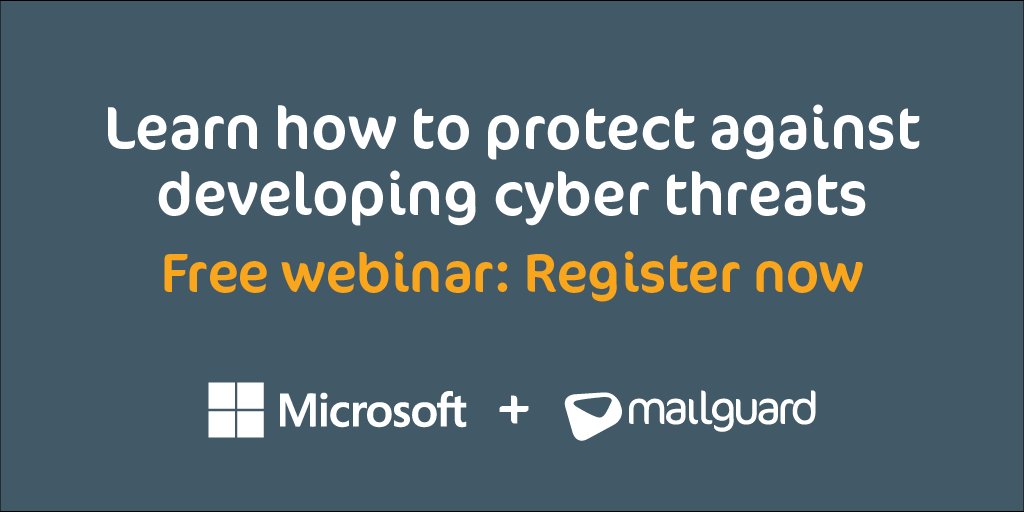 Register

Get informed about the best startegies to manage cybersecurity threats. To register for this free cybersecurity webinar, visit the Microsoft registration page.



Stay up-to-date with new posts on the MailGuard Blog by subscribing to free updates. Click on the button below: