On May 25, the EU General Data Protection Regulation (GDPR) comes into effect.
GDPR aims to incentivise the protection of personal data that is held by companies and organisations.
Any company doing business in the EU or selling goods or services to EU citizens could be subject to substantial fines if personal information they are holding is exposed by a data breach; as much as €20 million (approximately AU$32 million) or 4% of global annual revenue, whichever is the higher amount.
Is your business GDPR ready?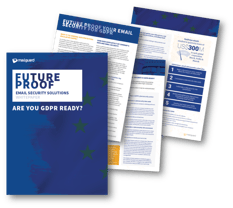 MailGuard is committed to helping you secure your company's data so you can avoid penalties under GDPR.
Download our easy-to-read info-pack to help you understand the implications of GDPR for your business.
Get it for free, here.
Stay up-to-date with the MailGuard Blog by subscribing to our weekly newsletter. Click on the button below: