MailGuard has discovered a large-scale email scam that is targeting inboxes across Australia today. The currently ongoing scam purports to be from Telstra and masquerades as a bill notification from the telecommunications giant.
The email is in plain text, with no Telstra branding. However, it is otherwise well formatted and authentic in appearance, and can be easily mistaken as a legitimate notification from the company.
Using a display name of "Telstra", the email actually comes from 1 of a large number of compromised accounts. It advises the recipient that their latest Telstra bill is now ready to be viewed. A link is included to "View Bill", as per the screenshot below: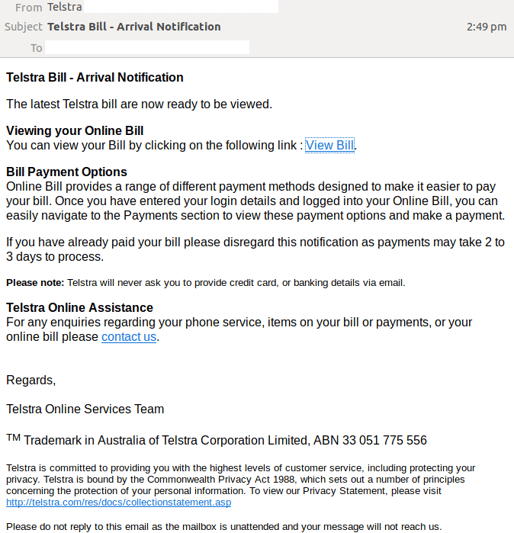 Unsuspecting recipients who click on the link to view their bill are taken to what currently shows a loading page: MailGuard believes this page is likely to lead to a Telstra branded phishing page or potentially a malicious file download.
While this scam isn't as sophisticated in design as others that MailGuard has seen, cybercriminals do use several elements within the email body to convince recipients that it is a legitimate notification from Telstra. A key feature is the inclusion of the sentence 'Please note: Telstra will never ask you to provide credit card, or banking details via email."
This disclaimer, along with the included link to the telecommunication company's online assistance contact page, boosts the credibility of the email as it is a common feature that recipients are used to seeing in legitimate notifications from Telstra.
Telstra, by its large database and established brand credibility, is an ideal company to spoof by cybercriminals as it widens their victim pool.
Telstra's website offers this advice to their customers on how to recognise and avoid email scams:
Never trust emails that ask for personal details
Think twice before giving personal details online - instead, contact the sender using their publicly available contact details
Visit trusted websites via their URL, rather than clicking a link in the email
Only provide financial details on secure websites
Use a spam filter to help block unsolicited and hoax emails


To reduce the risk of being tricked by one of these scams, you should immediately delete any emails that:
Appear to be from a well-known organisation, typically a bank or service provider and are not addressed to you by name and may include poor grammar.
Ask you to click on a link within the email body in order to access their website. If unsure call the company directly and ask whether the email is legitimate
Offer money, reward or gift to entice you to hand over your personal details
Ask you to submit personal information that the sender should already have access to or should not be requesting from you in the first place
For a few dollars per staff member per month, add MailGuard's cloud-based email and web filtering solution to your business security. You'll significantly reduce the risk of new variants of malicious email from entering your network. Talk to an expert at MailGuard today about your company's cybersecurity needs: expert@mailguard.com.au
Keep up to date on the latest email scams by subscribing to MailGuard's weekly update, or follow us on Twitter @MailGuard.