This month, an Office 365 outage meant that many of Microsoft's European customers were unable to log into their email accounts or access related services.
If you've recently migrated to Office 365, you may have experienced periods when your email was either unavailable, or performing slower than required.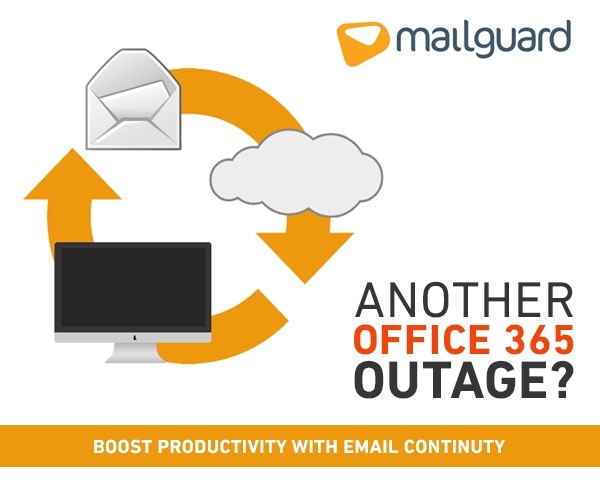 Despite being a highly-effective enterprise email solution, businesses need to ensure that Office 365 downtime does not affect productivity while staff wait for their services to resume.
This article gives an overview of how an Office 365 outage can affect your business, and how adding a third party cloud email continuity solution, to work alongside your hosted mail service, can help to mitigate risk.
Office 365 uptime - an overview
Since Microsoft launched its hosted email solution in 2011, a number of Office 365 outages have effected its overall service availability.
After a difficult teething period following launch, which saw outages 'piling up' across its cloud-based suite, 2013 brought another difficult year, with four major downtimes reported in one month alone, according to research by Osterman.
While Microsoft has maintained that its hosted mail solution is available to customers 99.9% of the time, additional briefer periods of slow performance have contributed to longer periods of reduced service overall.
These periods of "service degradation" mean that Office 365 uptime is reported to be closer to 97.929%, resulting in over three days' lost productivity in 151 days – that's equivalent to over a week of inactivity a year.
Microsoft has attributed its service outages to a range of different factors, which vary depending on the outage - while they are working to improve Office 365 uptime, problems appear to persist.
In August this year a major outage in the Houses of Parliament left up to 3,000 users without email access for 13 hours.
Office 365 downtime - the costs to your business
The costs associated with email unavailability are varied across different organisations. If your staff were unable to send or receive email for a number of hours during an Office 365 outage, how would this affect business?
While estimating the cost of an email outage is difficult, if each staff member spends a quarter of their working day using email, each hour of downtime is likely to cost the business around 25% of their hourly rate.
Without continuous email communication, businesses will be unable to send critical information or respond to requests in a timely manner, both internally and externally.
Larger organisations typically use email to communicate internally on work which requires feedback from a variety of stakeholders, in order to provide visibility and an audit trail. Office 365 downtime would delay the sign-off process and reduce the business' ability to get work actioned promptly.
Having to use alternative modes of communication would likely be more time consuming, while increasing the likelihood of informational inaccuracies.
This may result in you failing to communicate a business change to your customers quickly enough, or communicating it poorly, creating a below-par customer experience.
During an outage, inbound mail will also bounce back to its original sender, meaning you'll potentially miss important communications, while leaving clients and customers frustrated and confused.
Persistent poor communication, internally or externally, will eventually lead to poor brand reputation, lower customer loyalty and lost opportunity. Marketing costs may also rise as you try to win back custom through new campaigns.
Overtime costs could also rise, with staff having to stay longer to complete their work, while longer working hours and lulls in productivity could lead to employees becoming disillusioned and leaving.
Mitigate Office 365 productivity risk with third party email continuity
Fortunately, you can reduce the impact of Office 365 downtime by employing a third party cloud email continuity solution to work alongside your primary hosted mail.
Business email continuity acts as a secondary mail service in the event of a primary mail server outage, intercepting, copying and delivering all new mail to a webmail account, which is immediately accessible online.
Premium cloud-based continuity solutions, like MailGuard Live, extend to give full email productivity, so you compose, send, receive and read emails with full address book access, allowing you to operate at normal capacity.
By automatically queuing your inbound and outbound mail for a rolling period, you can access your most recent mail content immediately, giving staff the flexibility to respond to the highest priority projects.
If the outage extends for a number of days, your inbox will roll on day-by-day until your service is up-and-running again, so emails from previous days won't be deleted.
With cloud email continuity, your mail won't bounce back to clients, so Office 365 outages won't be evident to them, allowing you to maintain a reputable line of communication. Once the outage is over, all mail is restored back to Office 365 servers, so everything's in one place.
While Office 365 has a range of features and benefits which make it a first-class hosted email solution, its downtime could expose you to a number of financial and productivity risks.
If you're worried that Office 365 downtime might impact your business, you can read more about MailGuard Live here.
Office 365 (TM) is a registered trademark of Microsoft®.