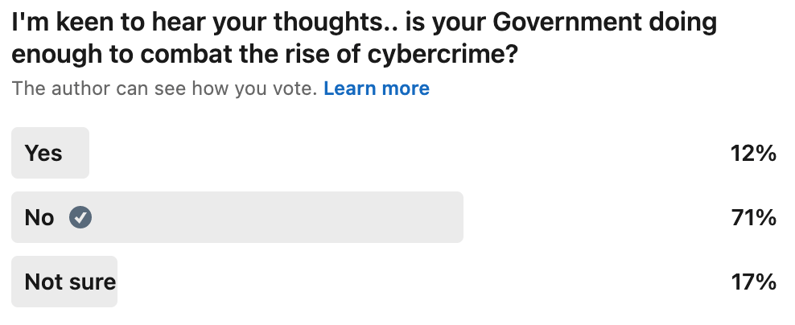 In the first quarter of 2022, Australians lost more than $72 million to scams, up $10 million from the same period in 2021. The Australian Cyber Security Centre (ACSC) have also revealed that they have one cyberattack reported to them every 8 minutes.
The speed that cybercrime rates and complexities are rising is alarming to say the least, so it will come as no surprise to hear that the Australian Government is investing more to improve the cyber resilience of Australian business. Recently, the Australian Government announced an almost $10 billion cybersecurity package, aimed at bolstering cybersecurity efforts on a national front and consequently making headlines across the world.
Although cyber resilience certainly requires a collaborative effort, governments have an important role to play. After the budget announcement, I was left questioning if it's enough and decided to turn to my network of cybersecurity industry professionals and business leaders on LinkedIn to ask:
"Is your government doing enough to combat the rise of cybercrime?"
The results were very telling.
71% responded with a clear "No",

17% of voters were "Not Sure", and,
12%, a small minority, responded "Yes".
While my network consists of individuals from across the globe, the majority of respondents were from Australia and the U.S., two countries which have adopted similar stances on cybercrime. Especially considering the recent escalation of cyber risk as geopolitical tensions rise, sparking warnings from both governments urging business leaders to lift their game.
Here are a couple of replies from Australians who shared their reflections on the budget announcement:


"Pre-election words vs post-election deeds will be the deciding factor here regardless of your political leaning. There's a lot of work to do in this space and funding is a good start, but only a start."
"I'd like to see where and how they intend to spend it... That'll determine whether or not they know what they're doing, regardless of the $ they throw at it."
From these responses, it's obvious that transparency is a key issue, with a high degree of cynicism implied. Only time will tell how well the funds are used, and how effectively.
So, that leads me to question, what exactly are the government doing to take action?
REDSPICE
The $9.9 billion cybersecurity package that was unveiled in the 2022-23 budget announcement has been bundled under the name REDSPICE (Resilience – Effects – Defence – Space – Intelligence – Cyber – Enablers) and was described by Treasurer, Josh Frydenberg, as "the biggest ever investment in Australia's cyber preparedness".
The main priority for REDSPICE seems to be increasing funding for the Australian Signals Directorate (ASD), which is set to double in size over the next four years, with 1,900 jobs being created. The ASD will also benefit from the recently announced Cyber and Critical Technology Intelligence Centre.
Given the current skills shortage across the cybersecurity sector, some have questioned how the ASD plans to source talent for almost 2,000 jobs – this remains unclear at present. Although as a positive, if successful the program will result in a much larger pool of local cyber experts.

The Technology Investment Boost
The 2022-23 budget also revealed a boost for small businesses. The Technology Investment Boost enables Australian businesses with an annual turnover of less than $50 million to receive a 120% tax rebate on costs associated with supporting their digital adoption, including implementing cybersecurity systems, like specialist cloud email security software such as MailGuard. The boost is expected to cost the government $1.6 billion in tax revenue.
You can find out more about the boost here.
National Plan to Combat Cybercrime 2022
Recognising that change was needed, the Australian Government have updated the National Plan, which was first created in 2013 to combat cybercrime.
The plan comprises three main pillars:
Prevent and Protect

Investigate, Disrupt and Prosecute

Recover
Although at a national level, cybersecurity leadership is critical from the government, it's also important for businesses to take preventative measures, particularly for remote or hybrid workforces. As always, collaboration and leadership are key for both the public and private sectors.
For business leaders, developing their knowledge is a critical first step towards protecting their business against cyberattacks. They may find our whitepaper on Staying Cyber Safe in 2021 & Beyond useful in shaping their outlook of cybersecurity going forward. Our eBook 6 Practical Solutions for Managing a Hybrid Workforce can also provide suggestions for how they can strengthen cybersecurity in their business.
As partners, I am interested to hear your thoughts. Given the above information, do you think the Australian Government is doing enough to combat cybercrime? And if not, what more could be done?
Talk to us
MailGuard's partner blog is a forum to share information and we want it to be a dialogue. Reach out to us and tell us what your customers need so we can serve you better. You can connect with us on social media or call us and speak to one of our consultants.
Australian partners, please call us on 1300 30 65 10
US partners call 1888 848 2822
UK partners call 0 800 404 8993
We're on Facebook, Twitter and LinkedIn.
Keep Informed with Weekly Updates