The COVID-19 pandemic accelerated digital transformation among many businesses, but also simultaneously exposed their cyber vulnerabilities and levels of unpreparedness against insidious, targeted cyber threats.
As we enter a new year, here's a sobering fact to remind businesses that the war against cybercrime rages on: Cybersecurity failure is the fourth most pressing "clear and present danger" to the global economy.
That was a key finding of the World Economic Forum (WEF)'s Global Risks Report 2021, which looked back at a year ravaged by a global pandemic, economic downturn, political instability and the rapidly-worsening climate crisis. The report's findings are based on the annual Global Risks Perception Survey, which asks the Forum's network of business, government, civil society and thought leaders to gauge the risks facing our world.
Cybersecurity failure is among the top four short-term risks (up to two years) identified in the report, topped only by infectious diseases, livelihood crises and extreme weather events.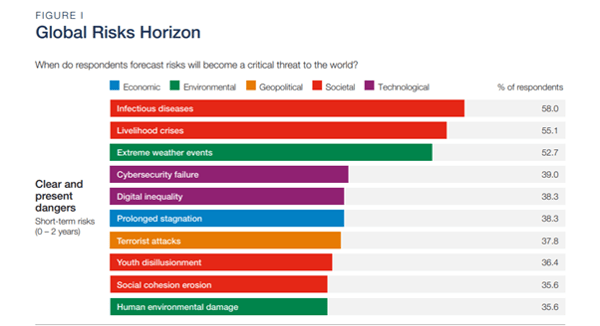 "Knock-on effects," aka medium-term risks (three to five years) saw cybersecurity failures rank in eighth place.
"Business, government and household cybersecurity infrastructure and/or measures are outstripped or rendered obsolete by increasingly sophisticated and frequent cybercrimes, resulting in economic disruption, financial loss, geopolitical tensions and/ or social instability," the report noted.
The WEF report comes as an urgent wake up call to all businesses that there is still room for improvement when it comes to enhancing their cybersecurity strategies. The fact remains that tens of millions of computers are being exploited, with news of companies being hacked surfacing daily.
And the situation is expected to deteriorate, the report warned:

"Misinformation, cyberattacks, targeted strikes and resource grabs are on the rise… The next decade is likely to see more frequent and impactful dissemination of disinformation on issues of geopolitical importance such as elections, humanitarian crises, public health, security and cultural issues…States and nonstate actors alike will likely engage in more dangerous cyberattacks…and these attacks will become more sophisticated."
This report serves as another impetus for businesses to continue boosting their cyber defences. We can't afford to dismiss the report's warnings. The stakes are too high, and the threat is all too real.
Malicious emails remain one of the most prolific ways fraudsters infiltrate networks, so we also recommend taking a defense in depth approach to your business email security. No one vendor can stop all threats, so don't leave your business exposed. If you are using Microsoft 365 or G Suite, you should also have third-party solutions in place to mitigate your risk. For example, using a third-party cloud email solution like MailGuard to complement Microsoft 365. For more information about how MailGuard can help defend your inboxes, reach out to our team at expert@mailguard.com.au.
What are some security challenges that your business is facing as we enter 2021? Add your comments below.