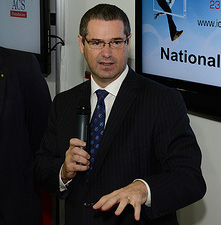 Over the past week MailGuard has been proactively calling businesses in the South West Victoria region affected by the fire at the Warrnambool exchange to offer assistance and help to ensure emails aren't lost.
From speaking to those affected, it seems the overriding thoughts from local business owners are of anger and frustration.
Minister for Broadband, Communications, and the Digital Economy, Senator Stephen Conroy thinks that there needs to be some lessons learned after the outage in Warrnambool affected the South West Victoria region. That's why today he's announced an inquiry will be held into the Warrnambool Telstra exchange fire that left more than 60,000 residents without fixed line telecommunications services.
"I understand the frustration felt by the people and businesses that have been left without a phone and other services," Senator Conroy said.
"Telstra has reconnected 35,000 homes and businesses and restored all mobile phone coverage to the area. They are continuing to work hard to reconnect the remaining services.
"A fire of this type is infrequent, but given how important telecommunications infrastructure is for the day-to-day lives of all Australians, an inquiry is appropriate."
"I want to hear the views of the affected communities and relevant experts to ensure that disaster mitigation and service recovery plans are as effective as possible if similar events were to occur in the future."
Disaster recovery and service continuity is one of the key areas that was lacking as some areas still don't have services restored after a week. The inquiry will investigate what adequate measures are both for the telecommunications infrastructure and for businesses affected. There will also be a public held to discuss the impact on local businesses and the wider community.
You can see the statement from the Department of Broadband, Communications, and the Digital Economy for more information.
(imagecredit: CeBit Australia)