Don't you just hate waiting on the phone to speak with a real person? You know the deal, you just need to ask a quick or simple question of a company or government organisation and you spend (what feels like) an eternity waiting on hold for a human to assist you.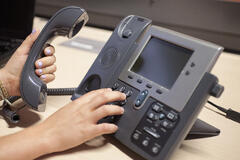 All the while listening to dreary elevator music or a continuous loop of "Thank you for calling, your call is important to us and we will be with you in just a moment." Frustrating, isn't it?
It comes as no surprise to learn that more customers are turning to online FAQs or customer help centers instead of telephoning or even emailing businesses to ask important questions. In a survey conducted by Forrester Research, self-service customer support has increased from 67% in 2012 to 76% in 2014. This trend is only set to continue with Gartner predicting by 2020, 85% of customers will be managing their relationship with businesses online, without interacting with a person.
Utilising online help solutions is not about businesses avoiding personal interactions with their customers. Online help solutions are providing additional mediums in which customers can obtain customer support, allowing them to choose the method that is most appropriate for their needs. By using online technology to ensure that businesses are being proactive, not reactive, they are assisting their customers in the most efficient way.
When discussing why customers actually prefer self-service over contacting a business directly, Customer Service and Experience expert Shep Hyken said that:
"Self-service is really important: if you train your customers to use self-service options, they'll get answers faster."
This helps both the business and their customer to save time as they give and receive answers much more efficiently. In turn, this improves customer satisfaction and retention. Happy customer, happy business!
Well known software companies (who deliver their services through the cloud) including Zendesk and HubSpot, have proven this to be true. They understand that their customers no longer want to rely on having to speak with a customer service representative each time they have a support or service query. While businesses and their staff spend so much of their time online, it makes sense for them to be able to access an online portal to find the answer to the question themselves. Businesses that have created online self-help or knowledge-base portals are actually adding value to the customer support system they already have in place.
MailGuard is passionate about providing superior customer service and boast a Net Promoter Score (NPS®) of +64. We believe the only way to improve this even further is to deliver the customer support that our clients value, in the modern way. Therefore, we are pleased to announce the release of The MailGuard Self-Help Center.
As an extension of the customer Unified Management Console, the Help Center provides a host of helpful information and 'how-to' self-help articles on all the services we offer here at MailGuard. The Help Center is also a great central point for MailGuard clients to locate configuration guides and instructional documentation. Clients also have the ability to opt-in to be notified when new self-help articles are released.
MailGuard will continue to provide 24/7 phone support, and of course still offer traditional email support. The Help Center is simply an extension of our support services and is frequently updated by the cloud security specialists and support analysts they speak with on the Service Desk.
MailGuard provides accurate, timely and helpful technical support for our clients, and so it is only natural to add an online self-help portal as another avenue access it.
Like to learn more about MailGuard services, take a look at The Key To The Best Malware And Spam Protection.
---