Cybercriminals launched a large-scale email attack yesterday impersonating NSW Roads and Maritime Services. The attack follows last week's ASIC scam, impersonating yet another government agency.
The email, which is well formatted and not easy to spot as a fake, mimics an 'E-Toll account statement' and carries the branding of Roads & Maritime, the logo for NSW Transport, Roads & Maritime Services, and a realistic privacy statement, recycling message and other appropriate language.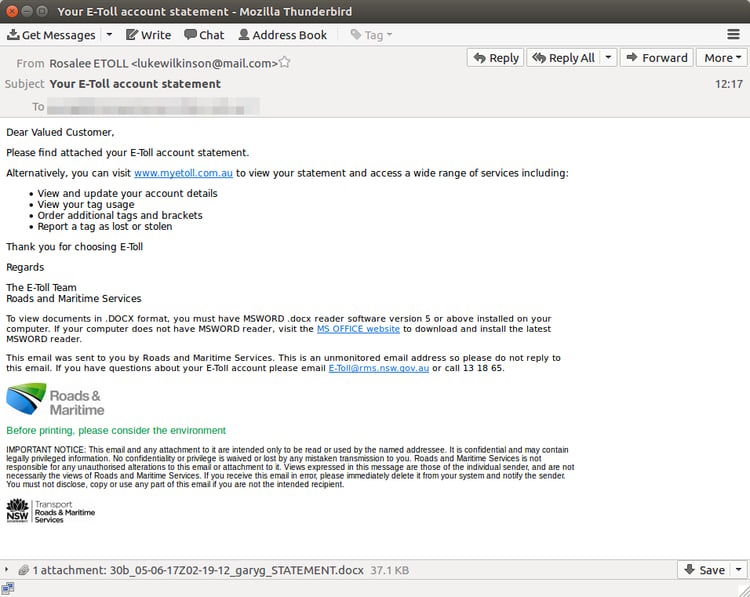 The first emails were intercepted around midday AEST, with thousands being intercepted by cybersecurity firm MailGuard.
The emails are designed so that the sender display name changes in each email, followed by the word E-Toll, for example 'From: Rosalee E-Toll.'
While this scam is well executed with accurate branding and language, it doesn't address recipients by name - rather it is simply addressed to 'Dear Valued Customer' - nor does it carry any other personalised information.
It's signed off by 'the E-Toll team'. Those who click the link inadvertently download a malicious JavaScript file housed within a zip file.
While the type of malware isn't clear – it could be anything from a virus to ransomware – malware is generally designed to disrupt, damage or gain control of a computer system or data.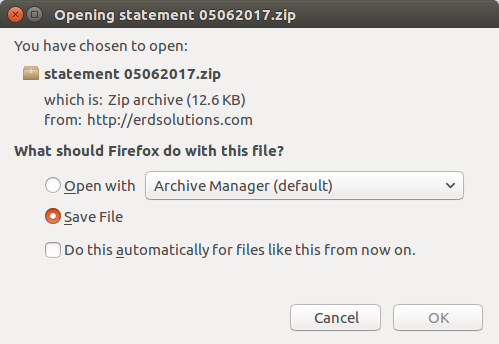 Malware can reformat your hard drive, alter, delete or encrypt files, steal sensitive information, send unauthorised emails, or take control of your computer and all of the software on it.
Further information: Why email scammers hide behind big names
For a few dollars per staff member per month, add MailGuard's cloud-based email and web filtering solution to your business security. You'll significantly reduce the risk of new variants of malicious email from entering your network.