A persistent driving infringement scam is targeting inboxes around Australia with malware.
The email appeals to people's curiosity with a malicious link titled 'Photo proof', complete with a 'violation number'.
The scam email claims the recipient has been fined for negligent driving. It says the fine will arrive in the mail, but that it can be viewed by clicking the link.
The email has no branding, and doesn't refer to which police authority apparently issued the fine.
The 'from' name and sending domain bear no relationship, and neither refer to any police authority.
Despite the low level of sophistication employed, the persistence of the scam suggests some targets have taken the bait.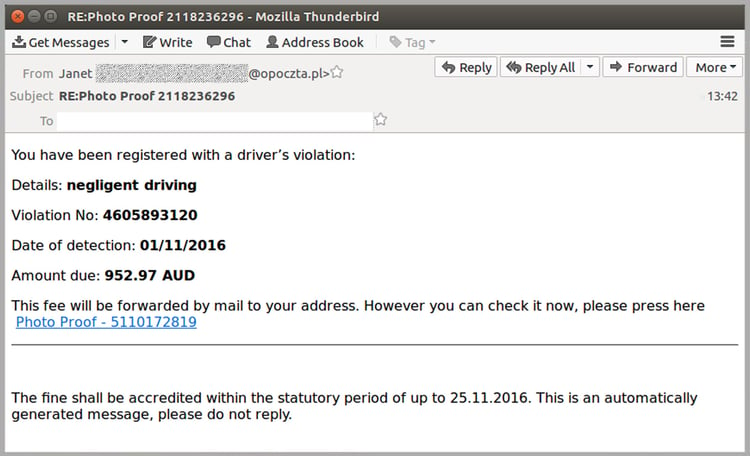 Various forms of the driving infringement scam have been blocked by MailGuard this week.
The link accesses a malicious ZIP archive which allows malicious code to be downloaded.
The dangers of malware
Malware is designed to disrupt, damage or gain control of a computer system or data.
It can reformat your hard drive, alter, delete or encrypt files, steal sensitive information, send unauthorised emails, or take control of your computer and all of the software on it.
How to protect yourself from malicious downloads
To reduce the risk of being tricked by one of these scams, you should treat with suspicious emails that:
Come from an unknown or unexpected sender
Ask you to open or download files that you were not expecting
Ask you to click on a link to access their website. If unsure call the company/person directly and ask whether the email is legitimate
Another easy way to check potentially-suspicious emails is to hover your mouse over the sender's address and the suspicious link. This will reveal more about the real sending domain and link destination.
For a few dollars per staff member per month, add MailGuard's cloud-based email and web filtering solution to your business security. You'll significantly reduce the risk of new variants of malicious email from entering your network.
Keep up to date on the latest email scams by subscribing to MailGuard's weekly update or follow us on social media.