Through minor modifications in their approach, cybercriminals are often able to develop new threat variants in an attempt to bypass existing security solutions.
MailGuard intercepted another email scam infiltrating Australian inboxes on the afternoon of 9th of September (AEST). Sent via a single compromised email address, the emails purport to be a HubDoc Alert. Using a display name of 'Genscape Australia Pty Ltd', they inform recipients of the arrival of a new statement supposedly from the same company. A button is included to 'view document'.
Here is a screenshot of the email: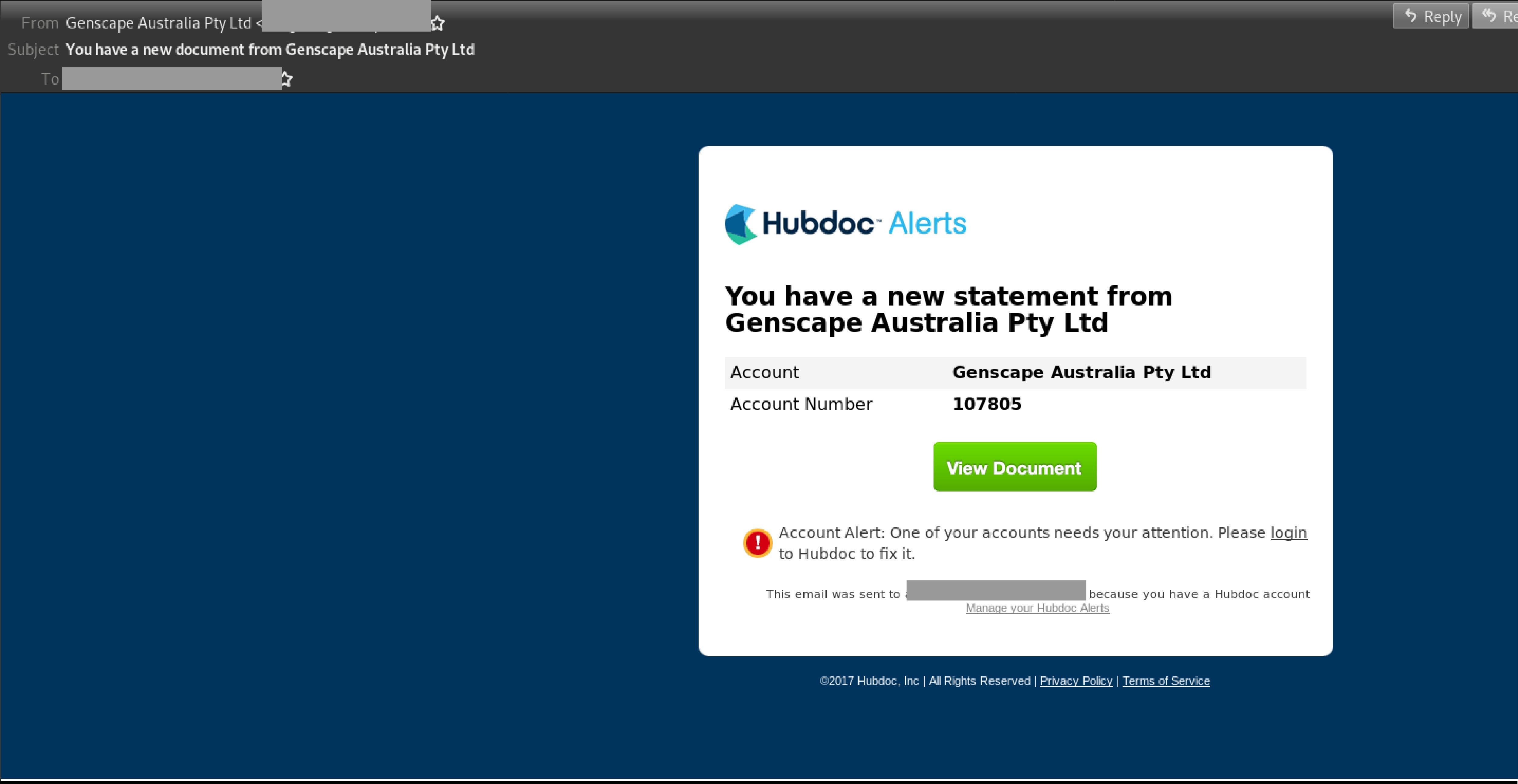 MailGuard understands that unsuspecting recipients who click on the button to 'view document' are currently led to a blank page. This could potentially download a malicious payload/phishing in the future.
MailGuard urges all recipients of this email to delete it immediately without clicking on any links.
The inclusion of the Hubdoc logo and branding within the email makes it harder for recipients to identify the email as a scam as it appears as a legitimate notification. This email also attempts to intrigue; telling the recipient that a new document has arrived creates a sense of curiosity. This motivates the recipient to click on the provided link right away, distracting them from checking the sending address of the email and looking out for any other errors.
In such cases, users are reminded of the importance of not accepting/clicking on documents from unknown senders, despite the organisation they purport to be from. All attachments/links should only be accessed when users are certain about the credibility of their owners.
What to look out for
As a precaution, avoid clicking links in emails that:
Are not addressed to you by name, have poor English or omit personal details that a legitimate sender would include (e.g. – tracking ID).
Are from businesses you're not expecting to hear from.
Ask you to click on any suspicious links.
Take you to a landing page or website that does not have the legitimate URL of the company the email is purporting to be sent from.
Don't get scammed
If your company's email accounts aren't protected, emails like the one above are almost certainly being received by your staff. Cybercriminals know people can be tricked; that's why they send out millions of scam messages and put so much effort into making them look convincing.
People are not machines; we're all capable of making bad judgement calls. Without email filtering protecting your business, it's just a matter of time before someone in your organisation has a momentary lapse of judgement and clicks on the wrong thing.
For a few dollars per staff member per month, you can protect your business with MailGuard's predictive email security.
Talk to an expert at MailGuard today about making your company's network secure: click here.
Stay up-to-date with new posts on the MailGuard Blog by subscribing to free updates. Click on the button below: