Think twice before providing any confidential information online – even if it is supposedly to government authorities. A well-executed and elaborate phishing scam is currently hitting inboxes, purporting to have come from MyGov and the Australian Government.
An email titled 'Australian Government and MyGov must verify your identity' was detected by MailGuard this morning. The email looked legitimate, with its body containing the MyGov and the Australian Government's logo.
The email advised the recipient to click on a link that enables their identity to be verified. A screenshot of the email is attached below.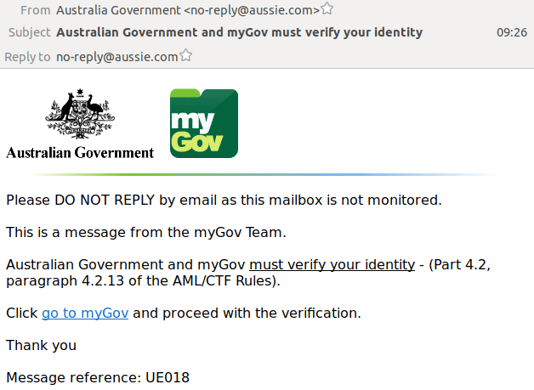 Recipients who click on the 'go to myGov' link are led to a login page for myGov as shown below: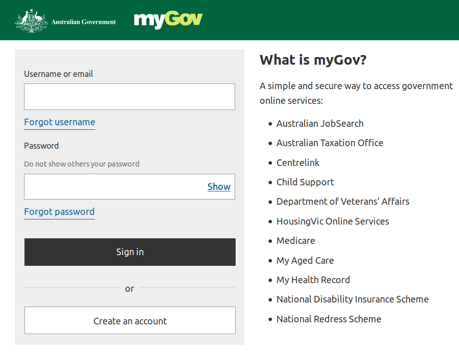 Echoing the branding in the email, this page also included both logos, along with multiple fields for the user to enter their MyGov username and password.
Once the user "logs in" they are then asked to upload some proof of identity documents, including front and back images of a driver's license and a utility bill.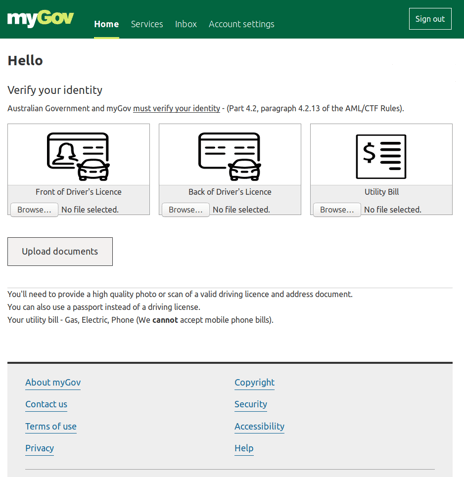 After uploading their identifying documents, victims are then led to a page informing them that they must log in to their bank accounts to complete their 'identity verification'. This page contains logos of several established banks.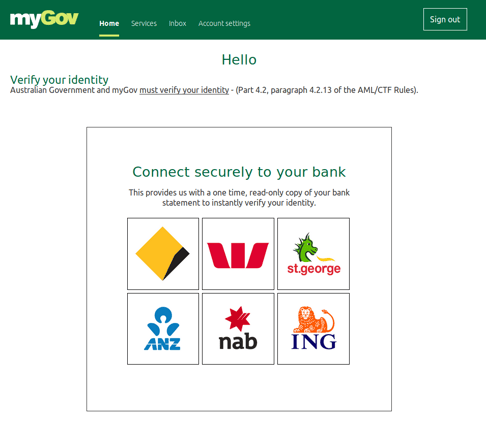 Clicking on any of the logos of the banks leads to another 'log in' page, which requests users to input their bank account information.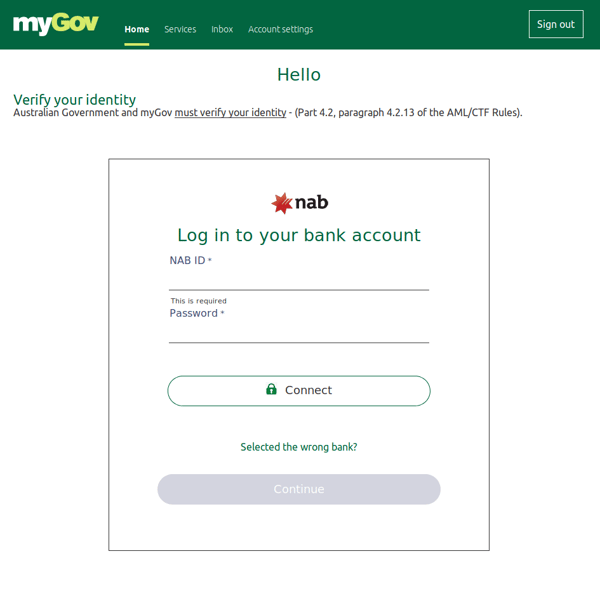 Once they have completed all the steps above, recipients are then informed their identity has been verified and are redirected to the actual myGov website.
MailGuard found the email actually comes from a forged sender address, which does not have an SPF record in place. The email domain used in the sender's address belongs to aussie.com, a hair care website owned by P&G.
Although this phishing scam is quite sophisticated and looks realistic, the sole purpose of it is to hijack the victim's personal information as well as banking credentials.
Like so many well-known, trusted brands and government organisations, MyGov and other Australian Government agencies are regularly the subject of email fraud and scams. According to www.humanservices.gov.au/individuals/subjects/about-mygov there are more than 11 million MyGov users' making it a prime target for cybercrime networks.
Please help us alert people to this phishing attack by sharing this blog post on your social media; click the buttons at the top of this post.
What is "phishing?"
Phishing is the practice of tricking email recipients into revealing personal information that criminals can exploit for gain.
Phishing emails go to a wide group of random people; it's like a fisherman casting a wide net to see what he can catch. The attackers know that not everyone will respond, but they know that if they send enough emails out somebody will probably take the bait.
A phishing attack message will typically include a link that will send the unwary victim to a fake login website. Once there, the user will be asked to enter username and password data which will be automatically captured by the phishing page.
Scammers use phishing pages to collect login credentials for email accounts, bank accounts, and a wide range of other online services.
Defend your inbox
Phishing attacks can be enormously costly and destructive and new scams are appearing every day. Don't wait until it happens to your business; take action to protect your company, now.
Effective cybersecurity requires a multi-layered strategy.
For a few dollars per staff member per month, add MailGuard's cloud-based email filtering protection to your business security. You'll significantly reduce the risk of new variants of malicious email from entering your network. Talk to an expert at MailGuard today about your company's cybersecurity needs: expert@mailguard.com.au
Stay up-to-date with new posts on the MailGuard Blog by subscribing to our email updates.