MailGuard has successfully blocked a targeted phishing campaign from cyber criminals posing as National Australia Bank (NAB).
In similar vein to a recent scam targeting NAB users, this new variation appears as legitimate communication from the Australian Bank, and asks users to update their account details to process a payment to their account.
The cyber criminals have attempted to trick the target by hyperlinking an official NAB URL. A vigilant recipient should understand the importance of hovering over links prior to clicking them to identify any discrepancies in the destination URL.
The email encourages users to click on an enclosed link, as shown below.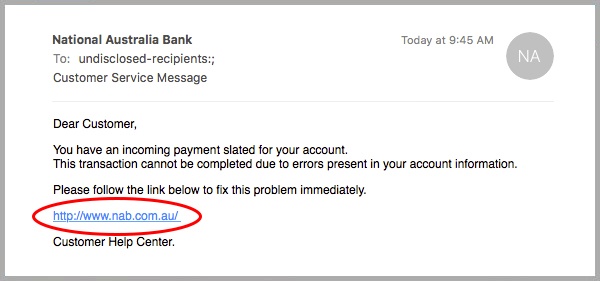 Upon clicking the link, users are directed to a fake NAB landing page which asks them to login to their online banking service by supplying their username and password.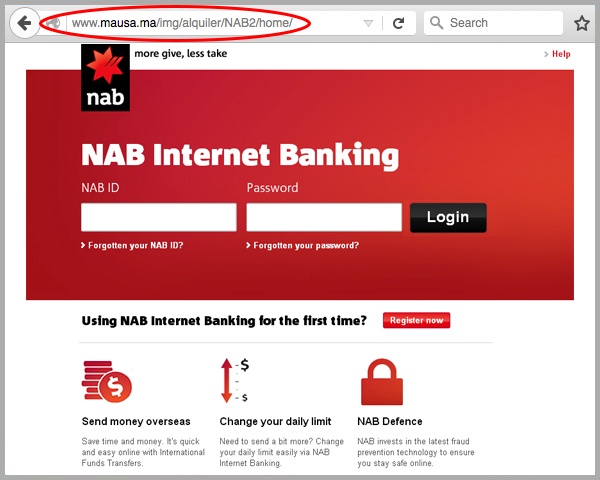 Despite the professionally-designed page, the unrecognisable URL in the address bar is the ultimate giveaway, and should warn users of the inauthenticity of this login page.
Unsuspecting users who miss this clue are tricked into supplying further account details, shown below, including their telephone banking password and date of birth.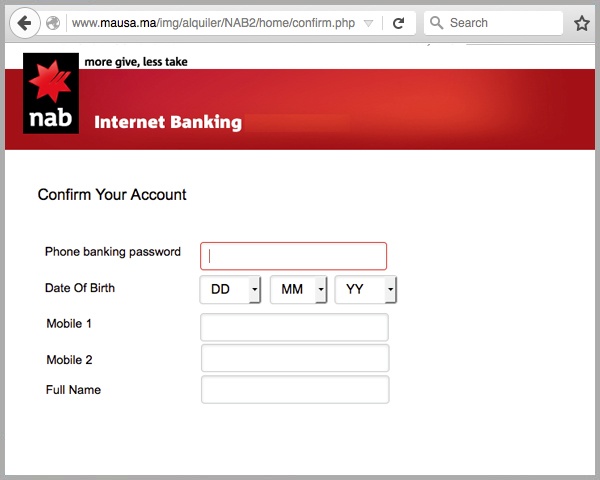 Once the details have been submitted, the cyber criminals then have access to the following:
Your NAB internet banking account.

Your NAB phone banking account details.

Verification information (first and last name, date of birth, primary and alternative mobile numbers) which can then be used to verify your account and access related services.
This phishing campaign is very similar to other recent online banking scams, which have also targeted customers of ANZ and Commonwealth Bank. With an increase in customers now managing their finances online, cyber criminals are employing increasingly sophisticated techniques to trick users into surrendering their account details, and funds.
To reduce the risk of being tricked by one of these scams, you should immediately delete any emails that include any of the following:
Appear to be from a well-known organisation, typically a bank or service provider and are not addressed to you by name and may include poor grammar.
Ask you to click on a link within the email body in order to access their site – your bank will always ask you to go to their website directly by typing their URL into your website address field, as a precautionary security measure.
Ask you to submit personal information that the sender should already have access to.
Trick you into supplying your details using an urgent call to action – in this case to process a payment to your account.
NAB offers a secure online and telephone banking service – if you are concerned about the legitimacy of any online communication you receive, please call them to double check.
We recommend that you share our blog posts and tips with your staff to make them more aware of these campaigns. By employing a cloud-based email and web filtering solution, like MailGuard, you'll also reduce the risk to your business greatly.
By complimenting this defence with an on premise antivirus, anti-malware and anti-spyware solution, you'll have a multi-layered defence which covers the key entry vectors.
---
Keep up to date on the latest email scams by subscribing to MailGuard's weekly security update.