Cybercrime networks are once again sending phishing emails to Apple users in an attempt to steal login credentials and other personal information.
The scam appears in two different variations and was first detected by MailGuard early yesterday morning (AEDT).
Using a display name of Apple, both variations of the scam contain the same message – that recipients need to verify their Apple ID details, including their billing information. A link is provided for recipients to verify their account.
Here are screenshots of both email scams: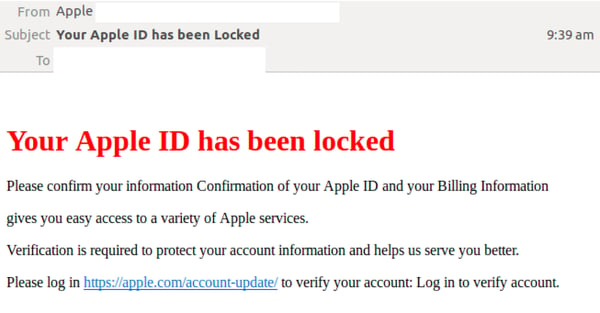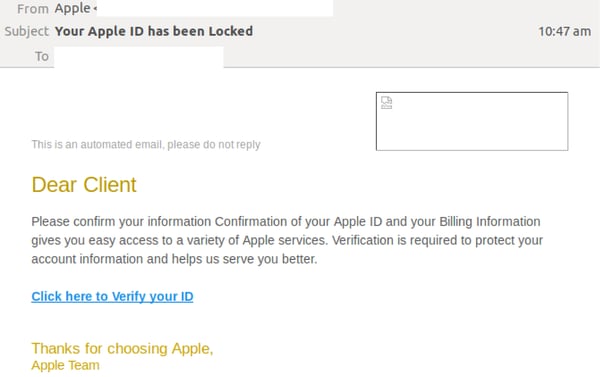 Unsuspecting recipients who click on the link are currently led to a 404 page, which we believe at one point hosted an Apple phishing page.
While this scam spoofs a well-established company such as Apple in order to take advantage of its large database of users, cyber-vigilant recipients should easily be able to spot several red flags that point to the illegitimacy of the email.
This includes the fact that the emails do not directly address recipients by name and contain several grammatical errors such as "Please confirm your information Confirmation of your Apple ID".
Why phishing emails are bad for business
Although this fake Apple phishing email is primarily targeted towards consumers, cybercriminals also use phishing emails to manipulate employees into surrendering access to a range of sensitive and valuable business information.
This can include access to your corporate usernames and passwords used to access and steal confidential data.
The financial, reputational and litigation costs associated with phishing can therefore be huge, and it's important that your business takes steps to protect itself.
We recommend that you educate staff on how to spot phishing emails in the event that they infiltrate your email inbox – you can access a range of hints and tips here.
If you've received this fake Apple email scam, Apple ask that your forward it to reportphishing@apple.com. They also offer a range of information on how you can identify and report suspected phishing emails involving their company.
Keep up to date on the latest email scams by subscribing to MailGuard's weekly update or follow us on social media.
For a few dollars per staff member per month, add MailGuard's cloud-based email and web filtering solution to your business security. You'll significantly reduce the risk of new variants of malicious email from entering your network. Talk to an expert at MailGuard today about your company's cybersecurity needs: expert@mailguard.com.au
Keep up to date on the latest email scams by subscribing to MailGuard's weekly update, or follow us on Twitter @MailGuard.